Mountains® software has been an ally for researchers analyzing surface topography since 1996. Over the years, new solutions have been added to the platform to make the study of other types of data like spectra or SEM and SPM images possible. Now comes the addition of MountainsImage® for the analysis of light microscopy images. Mathieu Cognard, Product Manager for MountainsImage® analysis software at Digital Surf, unveils to Surface Newsletter the new tools available and applications served with this recently released product line.
Why MountainsImage®?
"We realized microscopy users could benefit from a product line specifically designed for light microscopy image analysis" explains Mathieu. "Mountains® software already contained quite a few useful tools for light microscopy image processing, so we had a good base to work with. As with every product, it was extremely important for us to create a toolkit that would adequately answer the needs of its users. Because of this, new tools were developed with light microscopy users in mind. Adding this latest product to the Mountains® family was the next step towards completing our offer."
The brand-new MountainsImage® dedicated package comes with three product levels for pre-processing and analyzing black & white or color images without topography. Users can expect some of the central features they have come to know in Mountains® software, as well as new dedicated ones for light microscopy analysis.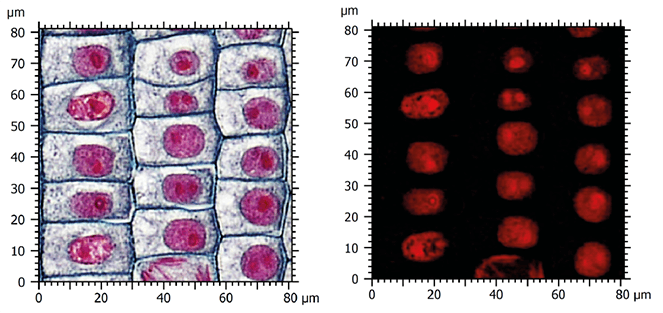 Above left. True color image of root cells. Above right. Pseudo-color monochrome image based on red chrominance using the "Convert to monochrome image" Operator.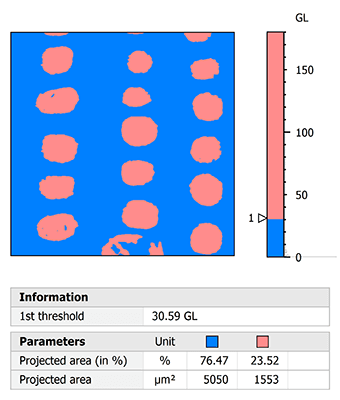 Above: Slices analysis on monochrome image.
MountainsImage® key features
MountainsImage® features include:
loading and visualizing light microscope images
basic correction and measurement tools
image scaling
viewing images in true or pseudo-color
applying enhancements & filters to images
extracting areas for analysis etc.
Other features are available such as image stitching for microscopists looking to combine multiple measurements into one set for analysis. The texture isotropy study and slices analysis study will be of great interest to those looking to segment images based on luminance.
Advanced features
Users who need more advanced tools when processing light microscopy images can access:
Fiber analysis and particle analysis for the detection, quantification and classification of fibers and particles.
Contour analysis including display of images beneath contour profiles, when analyzing horizontal object contours.
Color segmentation (via particle analysis) which allows users to isolate zones based on color (for example to detect & visualize component coverage in wear applications).
"A wide range of formats are compatible with the software such as: BMP, EMF, GIF, JPG, PNG, TIFF, WMF" adds Mathieu.
"Numerous types of applications can be dealt with using MountainsImage®: studying the speed of hair growth, quantification and measurement of cells or studying corrosion on instruments, to name but a few."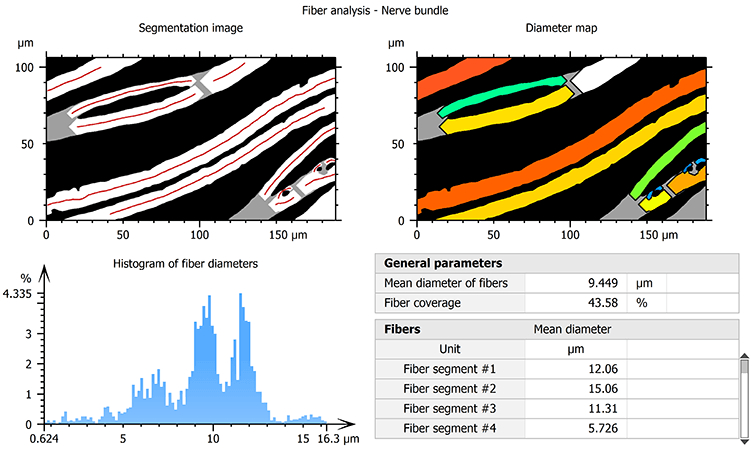 Above. Fiber analysis study of a nerve bundle: segmentation image, diameter map, histogram of fiber diameters and parameters table.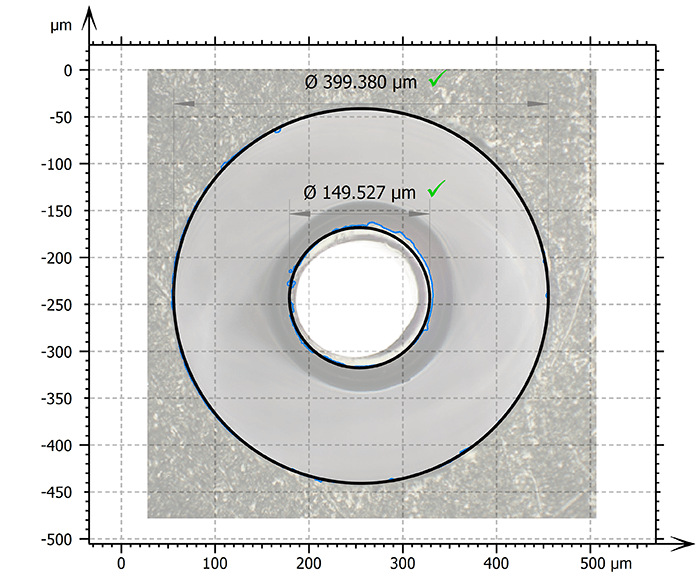 Above. Planar contour analysis with tolerance limits and image displayed beneath the contour.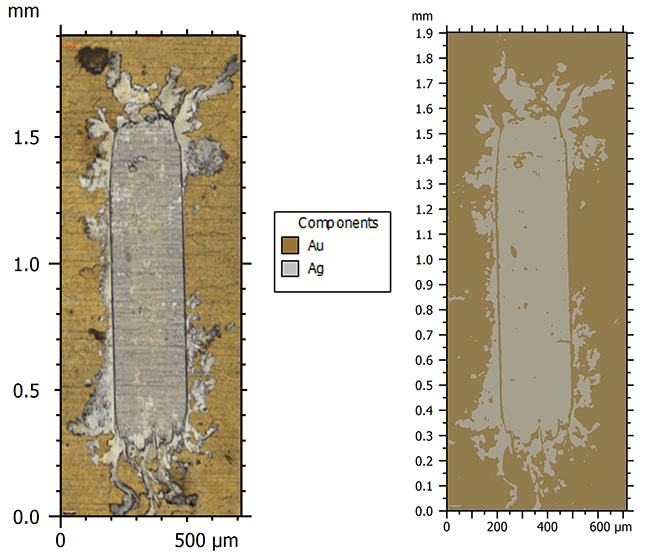 Above. Color segmentation. On the left, true color image. On the right, color segmentation by selection of the components to detect (in this case gold and silver).
Conclusion
"We're very proud of this new addition to the Mountains® software family. Our team has been working hard to bring to life a comprehensive solution for light microscopy users that renders the powerful and reliable results Mountains® users have come to expect from us" states Mathieu. "We are looking forward for users to try it out and share their findings with us."
Would you like to try it out for yourself?
Try Mountains®10 software for free