This Fall, the Digital Surf team has been cooking up a new version of Mountains® 9. A brand new release of Mountains® software is on the horizon bringing new and improved features for imaging, metrology and analysis. Let's take a look at some of the cool new features that will be on show at the Materials Research Society Fall Exhibit in Boston this November and available for download early December.
It's a question of style
Generating fantastic-looking documents for presentations is one of the features of Mountains® software most appreciated by users. Now managing styles applied to Studies (for example Pseudo color view, 3D view, Manual measurements, Particle Analysis etc.) just got easier.
Users can create custom styles, including palette, color and axis settings, and choose whether to apply them to any further Studies or to revert to a previously saved or default style. Styles can also be copy/pasted from Study to Study and users can even choose to apply any style to all Studies.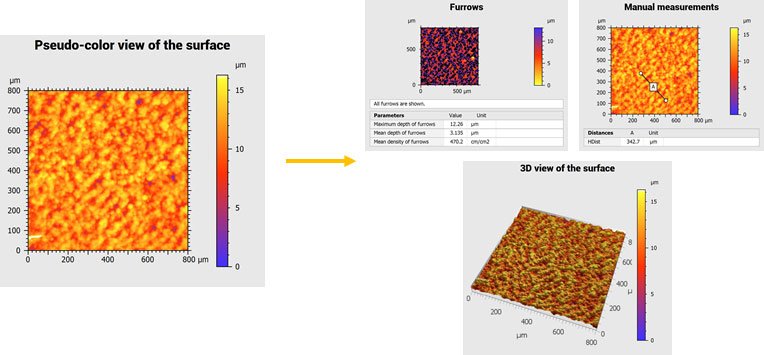 Above. Quick creation and application of study styles in Mountains® 9.1.
Extract multiple (custom) regions of interest
The Extract area Operator will be familiar to many Mountains® users. It now becomes the Extract Areas Operator, giving the ability to extract multiple areas of different shape from data of any kind: topography, images even force volume datasets. Rectangular, circular and custom areas can be combined and modified. Extracted areas can still be manipulated directly on the studiable in the document.
Revamped Force curve & force volume analysis
Big improvements await those analyzing data from force spectroscopy: force curves (force-distance curves) and force volume datasets. Changes include an array of improved visualization options in the Force volume study as well as new tools for "cleaning up" force curve data and getting it ready for analysis (new Sort Force Curves operator).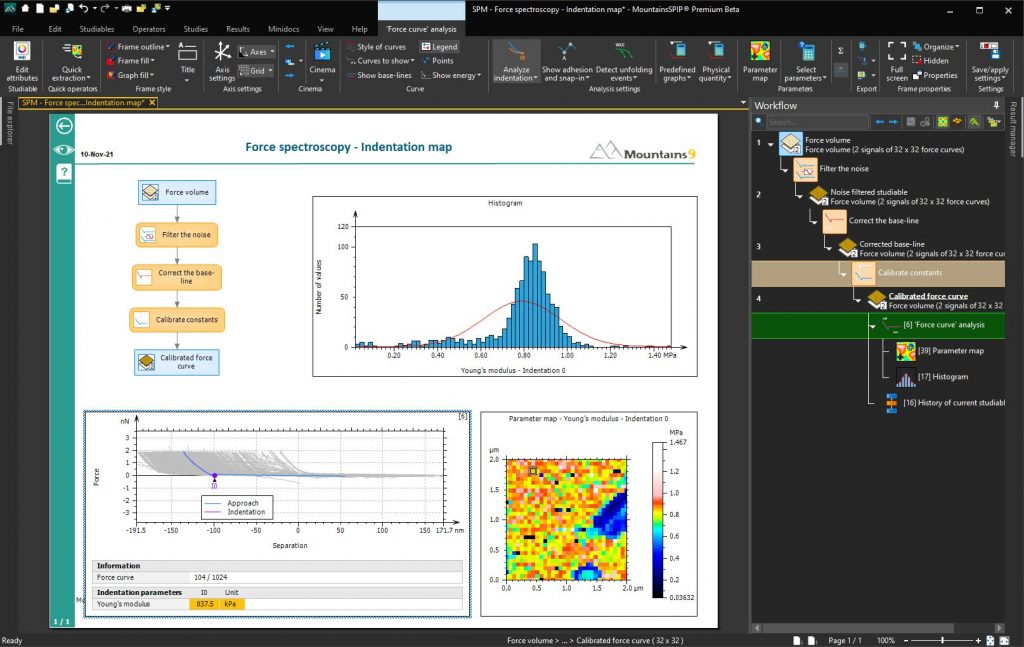 Above. Many improvements await users working with data from force spectroscopy.
"The focus of this release is really on helping our users focus on the parts of their data that are the most important to them" said Mathieu Cognard product manager for SPM applications. "A new Sort by a parameter operator enables users to sort force curves according to a parameter (Young's modulus, adhesion energy etc.) This can be useful if you're looking to isolate different materials composing a sample."
The 9.1 release also sees a lot of new features developed following user requests, including the calculation of energy parameters or enhanced baseline detection.
=> Read this article to see a user application
Even more tools for shell & point cloud analysis
Shell (freeform surface) data, introduced with Mountains® 8 and Point cloud data, with version 9, continue to benefit from additional tools. The Cloud mesh optimization tool speeds up the time to result when meshing point cloud data. A Remesh operator on Shells lets users homogenize triangle size: a useful option when working with large datasets!
A Rotate operator further completes the available toolset for these two datatypes. Rotation can be performed manually or automatically.
Multi-channel data: manage colors & legends
Multi-channel datasets from microscopes producing multiple data channels can be effectively managed in Mountains®. This feature can now also be used to load images containing chemical data (EDS maps etc.)
New options for attributing colors and legends to different channels are made available in the 9.1 release. As always in Mountains®, dependent studies are automatically updated when a change is made. Legends can be displayed in short or long form. This new option also applies to recently supported multi-channel cube datasets (see below).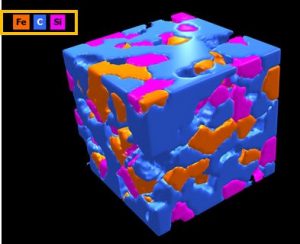 Above. Multi-channel cube with custom colors and legends.
Read More & Update
Check our software updates page for full details of the Mountains® 9.1 release (early Dec).
Access to the new version is free for users with an active Mountains® Software Maintenance Plan. To find out more about your Maintenance options, please contact sales@digitalsurf.com.