HOBOKEN, N.J. & BESANCON, FRANCE — Wiley, one of the world's largest publishers and a global leader in scientific research and career-connected education, today announced a new software integration between Digital Surf's Mountains® software for spectroscopic imaging and surface analysis and Wiley's KnowItAll software for spectral analysis and data management. Users of Mountains® will now have the option to send extracted spectra from spectroscopic images (Raman and IR: FTIR, ATR, NIR) direct to Wiley's KnowItAll software to analyze components, taking advantage of its powerful search, prediction and mixture analysis algorithms and vast spectroscopic data collections.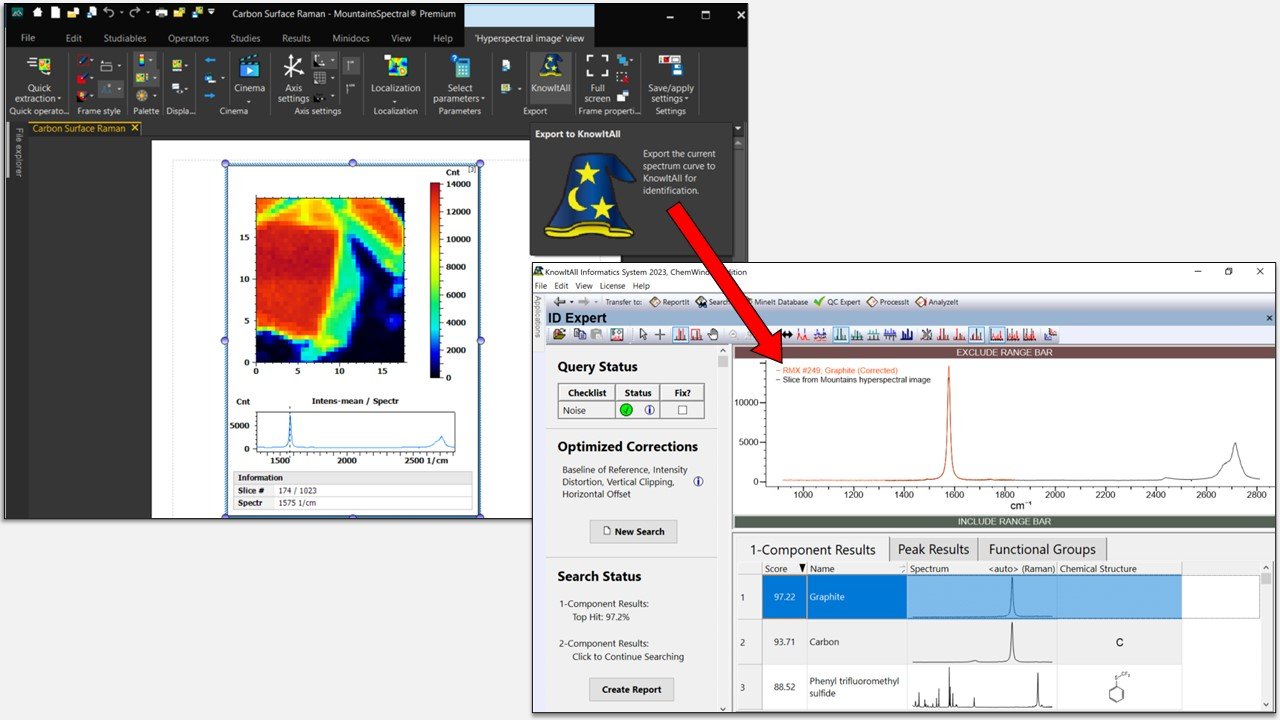 An extracted spectrum can now be sent from Mountains® software directly to KnowItAll for identification
"Confidently analyzing spectra extracted from spectroscopic images is easier now that users of Mountains® can effortlessly transfer spectra into KnowItAll for full spectrum search and mixture analysis. We can't wait to see the outcomes of these efforts appear in the published results in microscopy and surface analysis. We hope that this lends to an acceleration, broadening and overall improvement of characterization across life sciences and physical sciences" said Graeme Whitley, Director, New Business Development at Wiley.
"We're thrilled to be able to bring the power and wealth of KnowItAll's spectral database to users of our Mountains® solutions for spectroscopy analysis" said Renata Lewandowska, Product Manager for Spectral Applications at Digital Surf. "The connection between the two platforms is another step towards our goal of providing a 360° dedicated solution for processing & combining images and other data from spectroscopic techniques."
Wiley Science Solutions is home to the world's largest spectroscopy collection, providing researchers with integrated software solutions and superior spectral and chemical data collections with the aim to improve the quality of analysis and identification, reduce errors, and increase productivity in the laboratory. This partnership underscores Wiley's commitment to investing in technology-based solutions that support the important research and development taking place in government, university and commercial labs around the world. Learn more about Wiley's KnowItAll Software and Spectral Libraries at https://sciencesolutions.wiley.com.
KNOWITALL is a trademark of John Wiley & Sons, Inc. in certain jurisdictions.
About Wiley
Wiley is one of the world's largest publishers and a global leader in scientific research and career-connected education. Founded in 1807, Wiley enables discovery, powers education, and shapes workforces. Through its industry-leading content, digital platforms, and knowledge networks, the company delivers on its timeless mission to unlock human potential. Visit us at Wiley.com. Follow us on Facebook, Twitter, LinkedIn and Instagram.
About Digital Surf
Digital Surf has been developing surface imaging & metrology software for profilers and microscopes since 1989. Mountains® software solutions are integrated by 50+ leading instrument manufacturers worldwide. Application areas include: automotive, materials science, semiconductors, medical, aerospace, MEMS, renewable energy etc. Visit us at digitalsurf.revelateur.fr or follow us on Facebook, LinkedIn, Twitter or Instagram.
For further information and media enquiries, please contact:
Geena De Rose
Sr. Manager, Global Communications & Media, Wiley (US)
E newsroom@wiley.com
Clare Jamet
Marketing director, Digital Surf
E marketing@digitalsurf.com