As the surface metrology & microscopy industries continue to evolve, Digital Surf remains dedicated to building the best and most up-to-date surface imaging and analysis software. At Control Messe 2023 taking place in Stuttgart, Germany May 9-12, the team will be proudly introducing all the new features and improvements included in Mountains® 10.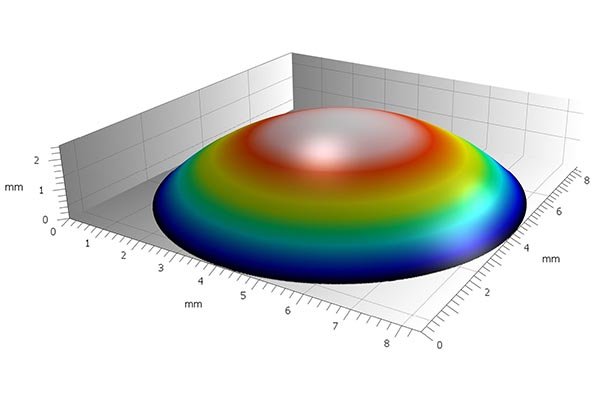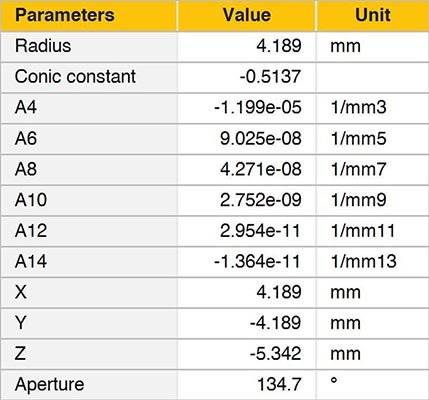 Above. Analyze aspheric optics with the new Lens Analysis module.
Lens Analysis: tools for analyzing aspheric optics
Analyzing aspheric optical surfaces and profiles is necessary for applications in many industries including imaging systems, sensors and lasers. With the new Mountains® Lens Analysis module in version 10, users can now access tools for studying these extraordinarily complex surfaces. Setting reference geometry and adjusting radius, conic contrast and polynomial coefficients is easy thanks to a dedicated dialog in the version 10 interface. Users can visualize aspheric surfaces as well as residual surfaces (showing the disparity between measured data and reference) in 2D and 3D.
CAD compare on Shell studiables
Following the introduction of features for Shells (freeform data) in version 8 and tools for surface metrology on Shells in version 9, version 10 sees a further development that will be of great interest for users working with this type of measurement.
It is now possible to compare measured Shell data (Actual) with CAD models (Nominal) or generated meshes (as is often the case in additive manufacturing).
Users can pre-align models automatically or manually, which is useful in the case of partial measurements, before fine-tuning the fit.
The next step is to calculate and show deviations using user-defined color palettes then generate result Shell and deviations in order to carry out further analysis (surface texture analysis etc.) with all the usual Mountains® tools.
Automation features, even more accessible
Automation of your analysis process is key in today's environment: in Mountains® 10, the interface for automation has been improved in more ways than one.
The new Automation tab now groups together all the Mountains® productivity functions such as:
Templates: as you work, Mountains® creates an analysis Document which can, in turn, be applied as a Template on a similar dataset or on large batches of measured data.
Minidocs: create your own analysis recipes with a desired sequence of Operators and Studies and use them as a macro.
Customization (save and reapply personalized Study settings, display etc. in order to work more quickly).
Mountains® can aid users to automate processes by allowing them to re-inject results. In version 10, the Result picker feature has been made more widely available throughout the software making it possible to re-use calculated results to drive other workflows. Examples of this include:
Define profile position when using the Extract profile operator.
In Parameters tables: centralize a cut-off value applied to several Parameters tables or Filters.
Mountains® 10 can now also automatically detect structures positioned at a certain place in Template mode.
The new version also sees even better integration with data acquisition & machine operating software. In particular, the SDK has been further developed: you can now insert Operators or Studies directly from your application and manage add-ons more easily.
MountainsImage®, lighting up your image analysis
The Mountains® range extends once more with new version 10. Users of light microscopes now have access to MountainsImage®, a dedicated package for this type of equipment. Three product levels are available.
A complete toolkit for pre-processing and analyzing images obtained is on offer, including enhancement, measurement, luminance histograms, color inversion and conversion to monochrome. Particle Analysis and Fiber Analysis tools are also available on this type of analyzed data. Besides this, two major new features are part of the product offering:
Show images (or surfaces) beneath contour profile, when analyzing horizontal object contour.
Color segmentation (via Particle Analysis) which allows users to isolate zones based on color (for example to detect & visualize component coverage in wear applications).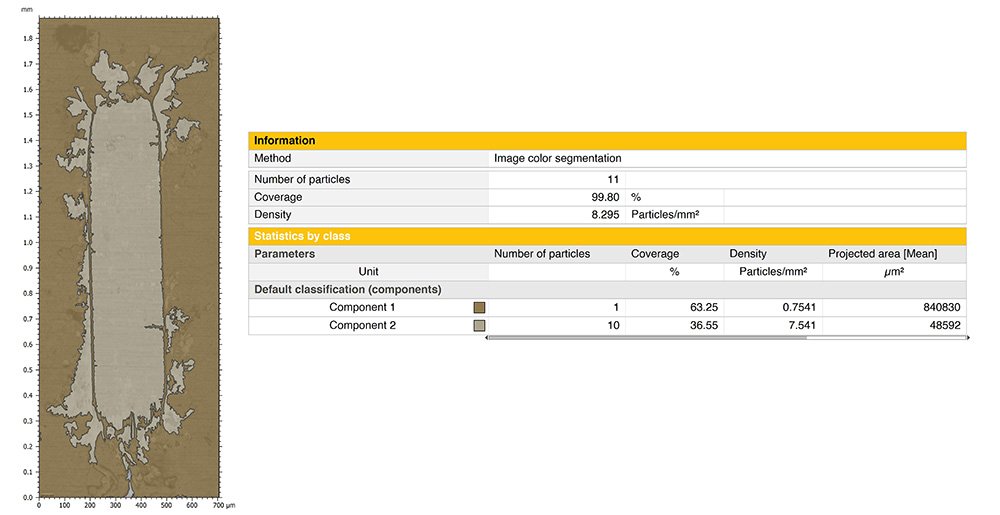 Above. Color segmentation, new in MountainsImage®, allows wear quantification on image data alone. Example taken from a study on the effects of fretting.
New features for all users
Many other new features await Mountains® software users with the dawn of this new version.
The extremely popular Extract profile tool has been augmented and redesigned.
Fiber Analysis is now available for topography analysis (on profilometry and SPM data).
Users can now Remove outliers from point cloud datasets.
Many tools have been extended for use on series of profiles and surfaces.
Peak Fitting is now available on series of spectra or hyperspectral images.
Parameter maps can be generated on hyperspectral images or force volume data.
FIB-SEM data: quicker loading and processing of image stacks as cubes and management of transparency.
Read more & update
Check digitalsurf.revelateur.fr for full details of the V10 release (available end of May 2023).
Access to the new version is included for users with an active Mountains® Software Maintenance Plan. To find out more about your Maintenance options, please contact sales@digitalsurf.com