Note: The use of this software implies your agreement and acceptance of the clauses of the End User License Agreement (EULA) during the installation process. After installation, you can display the License Agreement in Help > About.
More about system requirements on our Technical specifications page
Installing the software
Before installing a new version of the software, check you have Administrator rights.
1. Download the software installation file from: digitalsurf.com/support/software-updates/*.
2. Unzip the file then double click on Autorun.exe to begin the installation process.
3. Choose Install the Surface Analysis Software and follow the on-screen instructions of the installation wizard.
4. Enter your 6-digit installation code* and follow the installation steps.
*  LogIn, Password and Installation code can be found in the email you received. If in doubt, please contact your Distributor.
Using the software
Use of the software is protected by a USB protection key; this can be a "physical" key (USB dongle), or a software-based key (a code delivered via e-mail).
• In the case of a USB protection key, plug it into a free USB port of your computer before starting the software.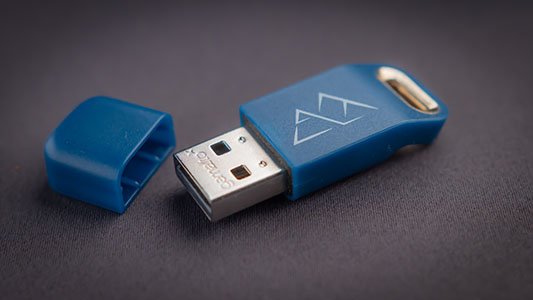 USB protection key
• In the case of a Software-based protection key, when you see "Activate license" on the following dialog, enter the activation code that you have received (Example: 2f3504e0-1584f-15d2-9a2c-0456e72c3501).
Troubleshooting
The USB protection key (dongle) is not found by the program on start-up
When you plug the USB protection key in, the red LED turns on to indicate it is functioning correctly.
If the dongle blinks rapidly, please wait for a few minutes until driver installation is complete. The LED should then turn red. If this is not the case, please try the following:
• Restart the computer to ensure that the dongle driver is correctly loaded.
• Ensure installation is done with an administrator account, otherwise the dongle will not be installed correctly.
• Reinstall the driver: double click on Autorun.exe, then on Install the HASP® Device Driver.
• Try downloading, unzipping and installing the driver from digitalsurf.com/support/software-updates/
The program does not start in my language
The program starts in the language of your operating system. The language can be changed at any time in File > Preferences > User interface > Localization.